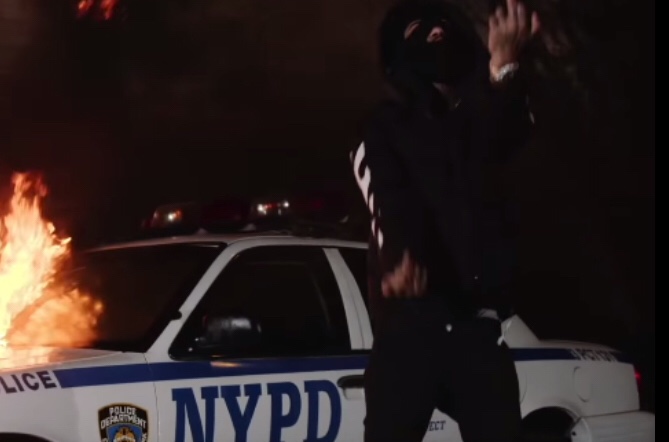 PNB Rock – Neva Lackin (Video)
PNB Rock drops the music video for his song, Neva Lackin. Between his encounter with crooked cops to a stick up robbery, the Philly rapper has his suspicions of an associate. With an aid of a lady accomplice, PnB kidnaps the fella and leaves him burning inside a trunk of a police cruiser. The block is hot.
Peep the visuals below.
Chorus]
Ay, word on the street they gon' kill me, still ain't happened (Bitch)
Ridin' wit' my pole, bitch I swear I'm never lackin' (Yuh)
Still doin' shows in my city, gotta get my Birkin (Doin' shows, yuh)
They say that they lookin' for me, we know that they cappin' (What you doin'?)
I've been trappin' (Uh, bitch)
Niggas keep thinkin' this shit a joke, my niggas ain't laughin' (Brrt)
Niggas keep actin' like they want smoke, bitch turned to ashes
(Boo, boo, boo)
Get the drop, fuck 12, don't know what happened (Yuh, yuh, yuh)
[Verse 2]
Bands (Hold up)
Bands (Drop, drop, bitch)
Juugin' and finessin', I was trappin' up a one-way (Bitch)
Posted on a block, bitch, from Sunday to Sunday
Told myself "I know imma be rich one day" (Yuh)
Huh, like what are you sayin'? (What are you sayin')
Huh, thought you was my mans
See you crossed the line and you stabbed me in my back, that was all in your plans, huh (Plans, huh)
Or you turned to a opp, gave up that drop, tryna get a nigga jammed, huh (Jammed)
Man that shit don't add up (It don't add up)
Nigga, you can [?] my bitch (Bitch)
Really I don't care (Really I don't care)
If you [?] wit' my paper, then that's gon' leave you dead (That's gon' leave you dead)
They gon' find you in a truck wit' a bullet in your head (Bullet in your head)
Wit' a note in your pocket that say "I fucked up his bread", bitch ("I fucked up his bread")
Huh, and you already know (Yuh)
Niggas don't want smoke (Don't want smoke)
Bitch it's new lane and that's the gang, gimme your gold (New lane, new lane)
We on a murderin' spree (Spree)
Ain't no swervin' me (Swerve)
Ain't no surgery (Surge)
Murderin' first degree
[Chorus]
Ay, word on the street they gon' kill me, still ain't happened (Word, yeah)
Ridin' wit' my pole, bitch I swear I'm never lackin' (Yuh)
Still doin' show in my city, gotta get my Birkin (Doin' shows, yuh)
They say that they lookin' for me, we know that they cappin' (What you doin'?)
I've been trappin' (Uh, bitch)
Niggas keep thinkin' this shit a joke, my niggas ain't laughin' (Brrt)
Niggas keep actin' like they want smoke, bitch turned to ashes
(Boo, boo, boo)
Get the drop, fuck 12, don't know what happened (Yuh, yuh, yuh)